Top Page > 2 Toge and 6 Shuku in Tokaido.(Yui-shuku)


The look of a Shukuba is preserved here. Yui Honjin Park is in this town. There is a museum for Ando Hiroshige in Yui Honjin Park and you can learn more about Japanese print art.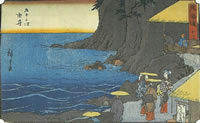 ■ Things to see
Yui Honjin Park/Tokaido Yui-shuku Communication Hall
Honjin is where the nationally important figures stayed. It thrived as a busy Shukuba with Waki-honjin, guest houses for general travelers, and tea houses. Tokaido Hiroshige Museum is located on the former Honjin site and you can learn about Japanese print art.

Shizuoka City Tokaido Hiroshige Art Museum
The first museum in Japan to exhibit a collection by an Ukiyoe artist from Tokaido, Hiroshige Ando.


Download the brochure for Yui-shuku
A video is on YouTube.

■ Directions
20 minutes from the Shizuoka Station on inbound JR Tokaido Line (to Tokyo). Get off at the Yui Station.
13 minutes from the Fuji Station on outbound JR Tokaido Line (to Osaka). Get off at the Yui Station.
■Information base: Tokaido Yui-shuku Communication Hall
Hours: 9:00am to 5:00pm phone: 054-375-5166