Top Page > 2 Toge and 6 Shuku in Tokaido.(Okitsu-shuku)


This is the start of Minobu-michi, which goes to Koshu (Yamanashi Prefecture). Sekikenji Temple is famous for having the Korean envoys stop there during their journey.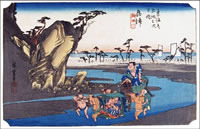 ■Things to see
Seikenji Temple/Kiyomigaseki Checkpoint(TEMPLE)
Built in the 8th century, this is a prominent temple in Tokaido. It houses numerous cultural assets and has been designated as a national historic landmark for its connection to the Korean envoys. About 1,300 years ago, there was a check-point on the path, across from the temple, to inspect the travelers and their belongings.

Okitsu Zagyoso Villa(HISTORIC BUILDING)
This is a reproduction of the second home of a 19th-century politician, Saionji Kinmochi, where he spent the last years of his life. It is a purely Japanese-style building with elements from Kyoto.
Sekikenji, a temple protected by prominent historical figures.


Download the brochure for Okitsu-shuku
A video is on YouTube.

■Directions
15 minutes from the Shizuoka Station on inbound JR Tokaido Line (to Tokyo). Get off at the Okitsu Station.
18 minutes from the Fuji Station on outbound JR Tokaido Line (to Osaka). Get off at the Okitsu Station.
About 16 minutes on Shizutetsu Just Line Bus, "Miho Yamanote Line," departing from the No. 1 spot in front of the Shimizu Station. Get off at "Okitsu-Eki Iriguchi (Okitsu Station Entrance)".
https://transfer.navitime.biz/justline-eng/pc/map/Top
■Information base: Okitsu Zagyoso Villa
Hours: 10:00am to 5:00pm(Weekdays) /9:30am to 5:30pm(weekends, holidays)
Closed: Mondays, and beginning of the year
Phone:054-369-2221