Top Page > 2 Toge and 6 Shuku in Tokaido.(Utsunoya Pass)

In Japanese, "Utsu" means empty or a mysterious space that can bring back life. Since the olden days, this spot has been featured in literature as a mysterious spot.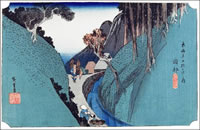 ■Things to see
Utsunoya Village(HISTORIC SITE)
This is a village of about 40 households and still shows a glimpse of the path from the past.

Meiji Tunnel (A tunnel from the Meiji period)(HISTORIC SITE)
A prominent individual in the area funded a construction of this tunnel during the Meiji period (early 20th century) in response to an increase in traffic. A total of 150,000 workers spent 2 years to build this first toll-tunnel in Japan.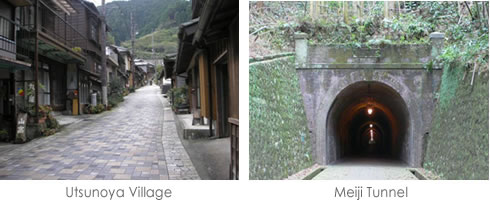 Download the brochure for Utsunoya Pass
A video is on YouTube.

■Directions
About 30 minutes on Shizutetsu Just Line Bus "Chubu Kokudo Line," departing from the North Exit of the Shizuoka Station (the No. 7 spot). Get off at "Utsunoya-Iriguchi" or "Sakashita" bus stop.
※Chubu Kokudo Line runs about 2-4 buses every hour on weekdays and about 2 buses every hour on the weekends.
https://transfer.navitime.biz/justline-eng/pc/map/Top
■Information base:
◇Road Station"Michi no Eki" Utsunoya Toge Okabe Chaya
Hours: 7:00am to 7:00pm
Closed: January 1
Phone:054-667-5080

◇Road Station"Michi no Eki" Utsunoya Toge Shizuoka City
Hours: Outbound: items for sale, restaurant 7:00am to 7:00pm
Area information center 8:30am to 7:00pm
Open year round
Phone:054-256-2545