Top Page > 2 Toge and 6 Shuku in Tokaido.(Satta Pass)

From here, you can see the landscape that has not changed since the 18th century. Historically, it was a challenging spot with the ocean encroaching around the mountain and many landslides.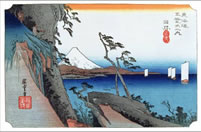 ■Things to see
Satta Touge(Path in Satta Pass)(HISTORIC SITE)
The view of Mt. Fuji across the ocean from the pass is amazing. The pass was extremely challenging such that even the parents could not look back to check on the children. In order to secure a safe passage through here, various routes have been designed across history.
The envoys from Korea traveled through this pass during their visits when the Shogun position changed.
Koike-Tei (House of a headman of Tokaido)(HISTORIC BUILDING)
The house, built in the 19th century, has been remodeled and is serving as a resting spot for the tourists.
Bogaku-Tei Fujiya(HISTORIC BUILDING)
This tea house has been watching over the pass for over 500 years. This is a private property but is open to the public.


Download a brochure for Satta Pass
A video is on YouTube.

■Directions
15 minutes from the Shizuoka Station on inbound JR Tokaido Line (to Tokyo). Get off at the Okitsu Station or the Yui Station(20 minutes).
13 minutes from the Fuji Station on outbound JR Tokaido Line (to Osaka). Get off at the Yui Station or the Okitsu Station(18 minutes).
■Information base
◇Koike-Tei (House of a headman of Tokaido)
Hours: 9:30am to 4:30pm(during March to October) / 9:30am to 4:00pm(during November to February)
Closed: Mondays, and beginning of the year
Phone: 054-376-0611

◇Bogaku-Tei Fujiya
Hours: 9:00am to 3:00pm
Phone:054-375-3486