Top Page > 2 Toge and 6 Shuku in Tokaido.(Mariko-shuku)


This is a small Shukuba post-station town in the mountain. You will find "Togeppo Saiokuji Temple" with a space-themed garden featuring the Big Dipper and "Sumpu Takumi-shuku," where you can try various hands-on activities.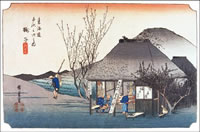 ■Things to see
Sumpu Takumi-shuku (Experience Workshop)
Here, you can learn traditional crafts and history of Shizuoka. You can try some hands-on activities in bamboo crafts, pottery, and ceramic arts. You can also learn about Tokaido and Mariko-shuku.

Togeppo Saiokuji Temple(TEMPLE)
This temple is known for its connection to Socho, an artist (poet) who served the Imagawa clan, the ruler of this region during the 16th century. The garden incorporating the features of the surrounding mountain has received a national designation as a notable scenic spot and a historical landmark.


Download the brochure for Mariko-shuku
A video is on YouTube.

■Directions
About 28 minutes on Shizutetsu Just Line Bus "Chubu Kokudo Line," departing from the North Exit of the Shizuoka Station (the No. 7 spot). Get off at "Shin-Mariko" bus stop.
※Chubu Kokudo Line runs about 2-4 buses every hour on weekdays and about 2 buses every hour on the weekends.
https://transfer.navitime.biz/justline-eng/pc/map/Top
■Information base:
◇Shirai Liquor Store
7-3-29 Mariko, Suruga-ku, Shizuoka-shi
Hours:8:30am to 7:30pm
Closed: 3rd Sunday of the month
Phone:054-259-5511
◇Ganso Chojiya, the oldest restaurant
7-10-10 Mariko, Suruga-ku, Shizuoka-shi
Hours:11:00am to 7:00pm
Closed: Closed on Wednesday and Thursday only at the end of the month
Phone:054-258-1066