Top Page > 2 Toge and 6 Shuku in Tokaido.(Ejiri-shuku)


There are multiple points of interest, including Chigo Bridge, the origin of the legend of a Japanese monster called Kappa, Shimizu Port, and a variety of stores.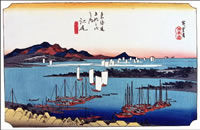 ■Things to see
Shimizuminato Jirocho-seika(Jirocho's Birthplace)(HISTORIC BUILDING)
The birthplace of "Shimizu no Jirocho," who contributed to the development of the area and the port in the late 19th century. Here, you can see the tools used by Jirocho and pictures of Jirocho. You can get a sense of the life of an average Japanese person 150 years ago. A registered tangible cultural property.

S-Pulse Dream Plaza(MALL)
There is "Sushi Yokocho," a Sushi-themed park, "Chibi Maruko-chan Land," a museum for a cartoon artist from Shimizu, and a large Ferris wheel, and various amusements.

Suehiro(The Shimizu Port Shipping Agent Memorial House)(HISTORIC BUILDING)
This is a 2001 reproduction of "Funayado (inn for shipmates)" that Jirocho originally built on a wharf at the Shimizu Harbor in 1886. You can see Jirocho's contributions to the development of the port.
Shimizu Port is an international trade port.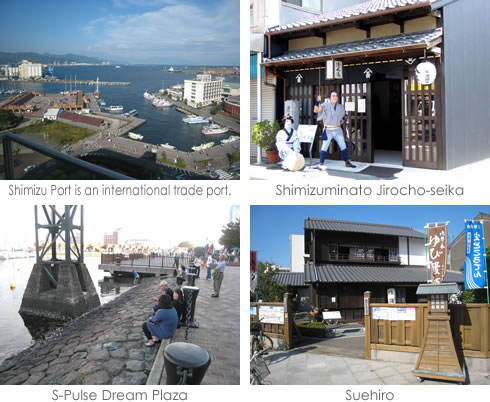 Download the brochure for Ejiri-shuku
A video is on YouTube.

■Directions
11 minutes from the Shizuoka Station on inbound JR Tokaido Line (to Tokyo). Get off at the Shimizu Station.⇒Free S-Pulse Dream Plaza shuttle bus ( 2- 4 buses per hour) departs from JR Shimizu Station Minato Exit (East Exit).
20 minutes on Shizuoka Railway from the Shin-Shizuoka Station. Get off at the Shin-Shimizu Station.

■Information base:S-Pulse Dream Plaza Information
Hours: 9:30am to 6:30pm
Open year round
Phone:054-354-3360
URL/http://www.dream-plaza.co.jp