Top Page > 2 Toge and 6 Shuku in Tokaido.(Fuchu-shuku)


You can still see the success of the town that was created by Tokugawa Ieyasu nearly 400 years ago. This is located at the center of Shizuoka City.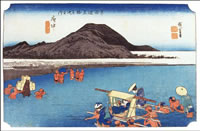 ■Things to see
Fugetsuro (Tokugawa Yoshinobu Residence) (HISTORIC BUILDING)
This is the site of a house associated with the 15th Shogun, Tokugawa Yoshinobu. His beloved garden remains to this day. Currently, it is a multi-purpose building with a restaurant, hotel, and banquet halls.
Sumpu Castle Park/ Higashi-gomon(East Gate)/Tatsumi-yagura(Turret)(PARK)
In 1606, Tokugawa Ieyasu moved to Sumpu for the warmer climate. "Tatsumi-yagura," a shooting range for bow and arrow and guns, and "Higashi-gomom" have been reconstructed.
Shizuoka Sengen-jinja Shrine(SHRINE)
Numerous gods are enshrined here including the protector of Shizuoka, god of Mt. Fuji, god of land, agriculture, fishing, commerce, engineering, medicine, and academia. There are 26 buildings that are registered national cultural assets.



Download the brochure for Fuchu-shuku
A video is on YouTube.

■Directions
The Shizuoka Station is 1 hour 30 minutes from the Tokyo Station and 1 hour 15 minutes on from the Nagoya Station on Shinkansen Kodama.
■Information base: Shizuoka City Tourist Information Center
Hours: 9:00am to 5:45pm
Closed: beginning of the year(December 29 to January 1)